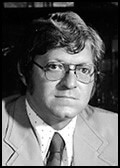 Selig I. Goldin
(1939–1980)
"As an attorney, Selig was always tops. Dedication and zeal were his trademarks. He accepted many cases and many clients others turned down, because he felt those cases had to be defended and he believed in the person and the cause."

Those few words, spoken at Selig Goldin's funeral by his brother, Philip, capture what members of the criminal defense bar knew of this young Gainesville lawyer who died of cancer before his time — that he was a man of great ability and great compassion. His career was cut short, yet he left his mark not only with those he defended, but with those judges before whom he practiced and those lawyers who were his adversaries in the courtroom and his friends when the trials were over.
To honor the memory of this young man, who none doubt would have reached the top of his profession, the Criminal Law Section each year distinguishes one member of The Florida Bar for displaying the talents and compassion possessed by Selig I. Goldin.
His path is not an easy one to follow. He graduated high school at 16, college at 20, and law school at 23. His list of honors is remarkable for one so young. By age 24, he was well-regarded within the Gainesville legal community as a man who would not turn down a case because the client could not afford to pay nor because the client's cause was unpopular.
As a member of the Executive Council of the Criminal Law Section, he displayed the same zeal and dedication to justice that was his trademark in the courtroom. He was, as many have said, a lawyer's lawyer, a man who possessed the best attributes of the profession — competence, service, compassion.
Philip remembers: As Selig began working on his goals, he touched many lives. From judges and attorneys to moonshiners, from clergy to ex-convicts, from athletes and coaches to doctors and nurses, from architects to plain, simple folk, he touched their lives in his own special way. Selig accomplished his goals and always did it his way.
A plaque commemorating the Selig I. Goldin Memorial Award winners is located at the University of Florida Levin College of Law in Gainesville.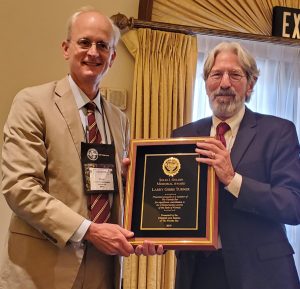 2019 Selig I. Goldin Memorial Award Recipient
Larry Gibbs Turner
This year, the Criminal Law Section has the pleasure of bestowing the Selig I. Goldin Award on one of our most-dedicated members – Larry Gibbs Turner.  The Award is bestowed annually to a member of the Bar who has made a lasting contribution to Florida's criminal justice system. Larry has met, and surpassed, that standard.
Larry graduated from the University of Florida law school, over the course of his 49-year career, he served as Alachua County Judge, followed by two terms as Circuit Court Judge for the Eighth Judicial Circuit.   He was an Assistant State Attorney and for many years, has maintained an active criminal defense practice.  Larry was Selig Goldin's law partner and shared with him one of the more highly respected practices in Florida.  He helped found the Florida Association of Criminal Defense Lawyers and served as one of its Presidents.
Larry Turner is indeed one of our finest and most recognized trial attorneys.  While he currently specializes in complex criminal defense (e.g., capital cases, white collar crimes, drug offenses), he represents professionals in licensure, tenure, and employment matters, as well as litigants in civil rights disputes.  Every year, he is recognized in Best Lawyers in America, Best Lawyers and Law Firms (U.S. News & World Report), Florida Super Lawyers and Florida Trend's Legal Elite.  He received the Stephen M. Goldstein Criminal Justice Award presented by the Florida Association of Criminal Defense Attorneys.
But perhaps the best measure of a professional comes from the respect garnered by colleagues.  Retired United States District Court Judge Stephen Mickle wrote:  "[Larry Turner] exemplifies integrity and fairness, two of Selig's best qualities.  Larry consistently stands up for what is right no matter the consequences, whether it means defending an unpopular cause or providing a voice for the accused.  He is one of the most honorable human beings I know."  Attorneys describe him as a "true patriot" (fighting for the civil rights of rich and poor) and "the pinnacle of professional excellence in criminal defense."
For many years, he was the voice of conscience on the Executive Council of the Criminal Law Section and we are indeed proud to bestow upon Larry Turner our highest honor, the 2019 Selig I. Goldin Award.
Previous Selig Goldin Award Winners