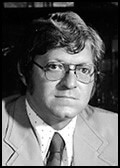 Selig I. Goldin
(1939–1980)
"As an attorney, Selig was always tops. Dedication and zeal were his trademarks. He accepted many cases and many clients others turned down, because he felt those cases had to be defended and he believed in the person and the cause."

Those few words, spoken at Selig Goldin's funeral by his brother, Philip, capture what members of the criminal defense bar knew of this young Gainesville lawyer who died of cancer before his time — that he was a man of great ability and great compassion. His career was cut short, yet he left his mark not only with those he defended, but with those judges before whom he practiced and those lawyers who were his adversaries in the courtroom and his friends when the trials were over.
To honor the memory of this young man, who none doubt would have reached the top of his profession, the Criminal Law Section each year distinguishes one member of The Florida Bar for displaying the talents and compassion possessed by Selig I. Goldin.
His path is not an easy one to follow. He graduated high school at 16, college at 20, and law school at 23. His list of honors is remarkable for one so young. By age 24, he was well-regarded within the Gainesville legal community as a man who would not turn down a case because the client could not afford to pay nor because the client's cause was unpopular.
As a member of the Executive Council of the Criminal Law Section, he displayed the same zeal and dedication to justice that was his trademark in the courtroom. He was, as many have said, a lawyer's lawyer, a man who possessed the best attributes of the profession — competence, service, compassion.
Philip remembers: As Selig began working on his goals, he touched many lives. From judges and attorneys to moonshiners, from clergy to ex-convicts, from athletes and coaches to doctors and nurses, from architects to plain, simple folk, he touched their lives in his own special way. Selig accomplished his goals and always did it his way.
A plaque commemorating the Selig I. Goldin Memorial Award winners is located at the University of Florida Levin College of Law in Gainesville.
2022 Selig I. Goldin Memorial Award Recipient
Jennifer Zedalis
Ms. Zedalis is the Director of Trial Practice at the University of Florida Levin College of Law, and a Senior Legal Skills Professor. She served on the Executive Council of the Florida Bar Criminal Law Section for 5 terms, and now continues to serve ex officio. She is a past Chair of the Section, and she has served as Co-Chair of the Gerald T. Bennett Public Defender/Prosecutor Trial Training Program for 16 years.  She served for 10 years as Chair of the Peter T. Fay Jurist in Residence Program at the College of Law.  During her 20 years as a full-time faculty member at the College of Law, she has taught Florida criminal procedure, trial practice, the criminal defense clinic, pretrial practice, intro to lawyering, mental health litigation, closing argument, and evidence. She is the faculty advisor for the trial team. She has been a member of the Florida Bar for thirty-eight years. Prior to joining the UF Law faculty, she served as an assistant public defender in the Fifth and Eighth Judicial Circuits and later ran a private law practice. She has handled all types of criminal cases, including capital cases, appeals, and post-conviction proceedings. She has lectured in the United Kingdom, Poland, and Costa Rica in the areas of American trial procedure, evidence, and criminal practice. She has been called as an expert in Florida criminal law in the Canadian Court of Immigration. She has published a book, Trying Cases: Promise, Prove, and Persuade (Vandeplas Pub. 2018), and several articles in the areas of trial practice and litigation. She has spoken at legal education conferences, trial advocacy conferences, and forensic mental health conferences, most recently the AALS Clinical Legal Education Conference (2019) and the John Jay Conference on Criminal Justice (2020). Ms. Zedalis has been interviewed on television and radio regarding several high-profile cases over the years. Her interviews have aired in six different countries, including the U.S., the U.K., Russia, Jamaica, Japan, and Canada.
Ms. Zedalis is an affiliate professor in the UF Department of Psychiatry. For many years, she taught the Landmark Cases Seminar for Fellows in the Department of Forensic Psychiatry. She is also a member of the ABA Litigation Section, the Florida Bar Trial Lawyers Section, and the Eighth Circuit Bar Association.
She has a Juris Doctorate from the University of Florida (1984) and a bachelor's degree in English Literature from Duke, magna cum laude (1980).
Previous Selig Goldin Award Winners