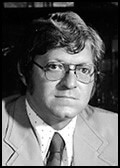 Selig I. Goldin
(1939–1980)
"As an attorney, Selig was always tops. Dedication and zeal were his trademarks. He accepted many cases and many clients others turned down, because he felt those cases had to be defended and he believed in the person and the cause."

Those few words, spoken at Selig Goldin's funeral by his brother, Philip, capture what members of the criminal defense bar knew of this young Gainesville lawyer who died of cancer before his time — that he was a man of great ability and great compassion. His career was cut short, yet he left his mark not only with those he defended, but with those judges before whom he practiced and those lawyers who were his adversaries in the courtroom and his friends when the trials were over.
To honor the memory of this young man, who none doubt would have reached the top of his profession, the Criminal Law Section each year distinguishes one member of The Florida Bar for displaying the talents and compassion possessed by Selig I. Goldin.
His path is not an easy one to follow. He graduated high school at 16, college at 20, and law school at 23. His list of honors is remarkable for one so young. By age 24, he was well-regarded within the Gainesville legal community as a man who would not turn down a case because the client could not afford to pay nor because the client's cause was unpopular.
As a member of the Executive Council of the Criminal Law Section, he displayed the same zeal and dedication to justice that was his trademark in the courtroom. He was, as many have said, a lawyer's lawyer, a man who possessed the best attributes of the profession — competence, service, compassion.
Philip remembers: As Selig began working on his goals, he touched many lives. From judges and attorneys to moonshiners, from clergy to ex-convicts, from athletes and coaches to doctors and nurses, from architects to plain, simple folk, he touched their lives in his own special way. Selig accomplished his goals and always did it his way.
A plaque commemorating the Selig I. Goldin Memorial Award winners is located at the University of Florida Levin College of Law in Gainesville.
2021 Selig I. Goldin Memorial Award Recipient
Benedict P. Kuehne
Known as the "Iron Lawyer" both for his successes and accomplishments in complex, protracted trials and appeals, as well as for his achievements as an Ironman athlete (140.6 miles of swim, bike, and run), Benedict P. Kuehne has made his formidable career in trial and appellate courtrooms throughout the State of Florida and across the nation. Best known for his significant representations as a white-collar criminal defense and civil trial lawyer, he is also one of the premier election law specialists in Florida, having represented Vice President Al Gore and the Gore/Lieberman Recount Committee as trial and appellate co-counsel in the 2000 election recount trial and the appeals to the Florida Supreme Court, the Eleventh Circuit Court of Appeals, and the United States Supreme Court. In 2012, leading a legal team, Ben obtained the fifth highest verdict in the United States, $155 million, for his successful representation of an internationally accomplished educator who sued as a whistle blower for her wrongful termination.
Ben is often referred to as a "go to" lawyer for public officials, lawyers, and other professionals involved in investigations and inquiries, disciplinary and ethics proceedings, and criminal litigation, and has been honored to have represented dozens of lawyers in criminal and ethics investigations and trials. Recently, with his team of skilled lawyers, Ben prevailed with not guilty verdicts on all counts in a closely observed municipal official/lawyer federal public corruption trial.
In a nationally watched and precedent-setting case, Ben prevailed against the U.S. Department of Justice in a test case in which he was charged, as a lawyer, with money laundering for reviewing and approving the propriety of legal fee payments to another prominent criminal defense lawyer for representation of a high-profile client prosecuted for drug trafficking. In a favorable decision of first impression, the Eleventh Circuit unanimously declared that legal fees paid for criminal defense representation were exempt from money laundering enforcement. The Department of Justice dropped all charges, resulting in Ben's immediate vindication the day before Thanksgiving 2009. Ben's case stands as one of this Century's most important precedents confirming the fundamental role of the Sixth Amendment right to effective representation.
Throughout his career, Ben has championed the rights of the powerless against powerful governments and institutions. He honed his skills as a trial lawyer in representations throughout the State of Florida and the United States, often in "bet the farm" criminal and high stakes civil litigation. In all his endeavors, Ben is focused on the pursuit of justice. He is equally sought after by defense and prosecutor organizations, as well as by law schools, for his insights on the justice system, and has counseled government officials in both Florida and the Department of Justice on improvements to the criminal justice system. He has waged battle on both civil rights and election law reform nationally and is currently consulting on legislative improvements in police use-of-force intended to benefit community confidence and diversity. He has been appointed to serve on Court Management Commissions and Task Forces to provide his insight and guidance to Florida courts from a criminal justice perspective.
Ben is a Past President of the Dade County Bar Association, a former member of the Board of Governors of The Florida Bar, a Past President of the Florida Association of Criminal Defense Lawyers-Miami, a Life Member of its Miami Chapter, a Founding and Life Member and past board member of the statewide Florida Association of Criminal Defense Lawyers, and a Charter Member of the Rosemary Barkett Appellate Inn of Court. He previously served as Chair of the Criminal Law Section, the Appellate Section, and the Council of Sections of The Florida Bar, was President of the Florida Council of Bar Association Presidents, and Chair of the Appellate Certification Committee and the Criminal Certification Committee of The Florida Bar. He is triple certified by The Florida Bar in Criminal Trial Practice, Appellate Practice, and Criminal Appellate Law, and by the National Board of Trial Advocacy as a Criminal Trial Advocate. He is also credentialed as a Certified Fraud Examiner (Life Member) and a Certified Legacy Advisor. He is a Past President of Temple Israel of Greater Miami.
In addition to his never-ending quest for justice, Ben is committed to his family, including his wife Lynn, children Rebecca (Joanna) and Jason (Kathryn), and his superbly talented grandchildren Ezra, Simon, Kayla, and Julia.
Previous Selig Goldin Award Winners