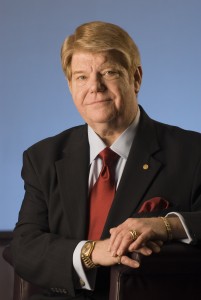 Neal R. Sonnett
2006 Selig Goldin Honoree
Neal Sonnett is a nationally respected trial lawyer who has been honored three times by the National Law
Journal as one of the "100 Most Influential Lawyers In America" and profiled by that publication as one
of the "Nation's Top Litigators" and one of the "Nation's Top White Collar Criminal Defense Lawyers."
He is one of only 12 lawyers in Florida included in every edition since 1983 of The Best Lawyers in
America and has been included in a multitude of respected publications as a leading lawyer in his field.
But it is his long career of service to the criminal justice system – which goes back almost 39 years – that
we honor today. He has devoted an enormous amount of his time to public service in professional, pro
bono, civic and charitable endeavors and he has fought to protect the Rule of Law and the promise of the
Bill of Rights and to improve the administration of our criminal justice system.
He began hisservice in 1967, when he was appointed an Assistant United States Attorney and, later, Chief
of the Criminal Division for the Southern District of Florida. His work as a federal prosecutor earned him
an award asthe 1972 "Federal Employee of the Yearfrom over 12,000 federal employeesin South Florida.
Neal has been a leader in the legal profession on a local, state, and national level. He is a former Chair and
current Executive Committee member of the American Bar Association Criminal Justice Section, which
he represents in the ABA House of Delegates. He is the current Chair of the ABA Standing Committee on
Governmental Affairs, an Officer of the Section of Individual Rights and Responsibilities, and he serves
on the ABA Presidential Task Force on the Attorney-Client Privilege, the Justice Kennedy Commission,
and the Task Force on Gatekeeper Regulation and the Profession.
Neal has been one ofthe ABA'sleading spokespersons on post-9/11 civil, constitutional, and human rights
issues. He currently chairs 3 separate ABA Task Forces which deal with important legal and
constitutional concerns:
! ABA Task Force on Domestic Surveillance in the Fight Against Terrorism;
! ABA Task Force on Treatment of Enemy Combatants; and most recently,
! ABA Task Force on Presidential Signing Statements and the Separation of Powers.
In addition, Nealserves asthe ABA's official Observerfor the MilitaryCommission trialsin Guantanamo,
and he has written and spoken extensively on terrorism issues. He was described by the ABA Journal last
February as "the ABA's go-to person. . .to help the bar navigate weighty legal policies involving war
powers, executive authority and civil rights,"
Neal has also foughtfor an independent judiciary.In September, he will become President of the American
Judicature Society, a national organization of judges, lawyers and other citizens who work to maintain the
independence and integrity of the courts and increase public understanding of the justice system.
Previous Selig Goldin Award Winners