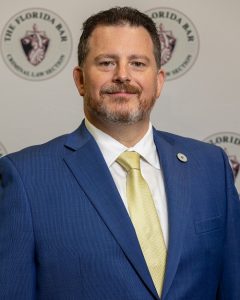 It is my privilege to serve as the 2023-2024 Chair of the Criminal Law Section.  Serving on the Section's Executive Council has given me the opportunity to collaborate with the finest criminal practitioners in the State of Florida.  It was an honor to be elected Chair by this incredible group of professionals.
I joined the Executive Council because I saw a group of lawyers with different roles in the criminal justice system working together to make the practice of criminal law better for everyone involved.  The mix of state and federal prosecutors, public and private defense attorneys, law professors, and members of the state and federal judiciary allows the Section to speak to any issue facing the criminal justice system.  When the Section speaks on an issue, it is with the goal of providing a consensus voice to that issue.
As a criminal litigator, I have practiced across the State of Florida.  While the issues that face different regions may differ, certain issues are consistent.  The criminal justice system must be fair and consistent from Pensacola to Key West.  A fully funded court system staffed with highly trained prosecutors and defense attorneys is necessary to make that happen.  Every year, the Criminal Law Section supports necessary funding initiatives to achieve that goal.  Every year, the Criminal Law Section produces top-tier continuing legal educational opportunities for criminal law practitioners.  Every year, the Criminal Law Section provides valuable insight into issues before the courts, the legislature, and the Florida Bar.  All of that is done with the goal of ensuring Florida's criminal justice system is fair to all parties involved.
This year, I challenge our Section membership to engage with the Executive Council.  Come to a meeting, join a committee, or lend your expertise to one of our CLE programs.  Your participation makes us better, and I look forward to seeing you at one of our events.
Joe Spataro
2023-2024 Criminal Law Section Chair