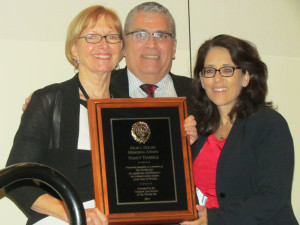 Nancy Daniels has been the Public Defender of the Second Judicial Circuit of Florida since 1990. She was the first woman elected to the office of Public Defender in the State. As Public Defender, she manages a staff of 110 full-time employees who handle criminal, juvenile, and mental health trials in Leon, Gadsden, Wakulla, Liberty, Jefferson, and Franklin Counties, as well as criminal appeals from 32 north Florida counties. Ms. Daniels personally represents defendants in the Leon County Drug Court, handles other trial and appellate cases, and is responsible for the hiring and overall supervision of the 67 attorneys in the Public Defender's office.

Ms. Daniels has served three terms as President of the Florida Public Defender Association, and has represented the FPDA in a variety of legislative issues over the past 20 years. From 2010-12, she served on The Florida Innocence Commission by appointment of the Chief Justice of the Florida Supreme Court. She has also been a member of the Florida Supreme Court's Drug Court Steering Committee (2000-08), the Supreme Court's Standard Jury Instructions Committee 1989-93); the Florida Bench/Bar Implementation Commission (1993-95); the Article V Task Force (1993-95), and the Governor's Criminal Justice and Corrections Study Commission (1992-94).

Ms. Daniels graduated from the Florida State College of Law with honors in 1977. She worked as a legislative intern during law school, and then served as a law clerk at the First District Court of Appeal. After working six years as an Assistant Public Defender, she was hired by Dean Talbot D' Alemberte as a Criminal Clinical Professor at the FSU law school, supervising State Attorney, and Public Defender interns around the State prior to her election as Public Defender in 1990.

Ms. Daniels has been instrumental in the development of drug courts, juvenile diversion and civil citation programs in the Second Judicial Circuit. After her retirement as Public Defender at the end of 2016, she plans to continue lobbying and doing criminal justice projects in the area of criminal defense.
Previous Selig Goldin Award Winners