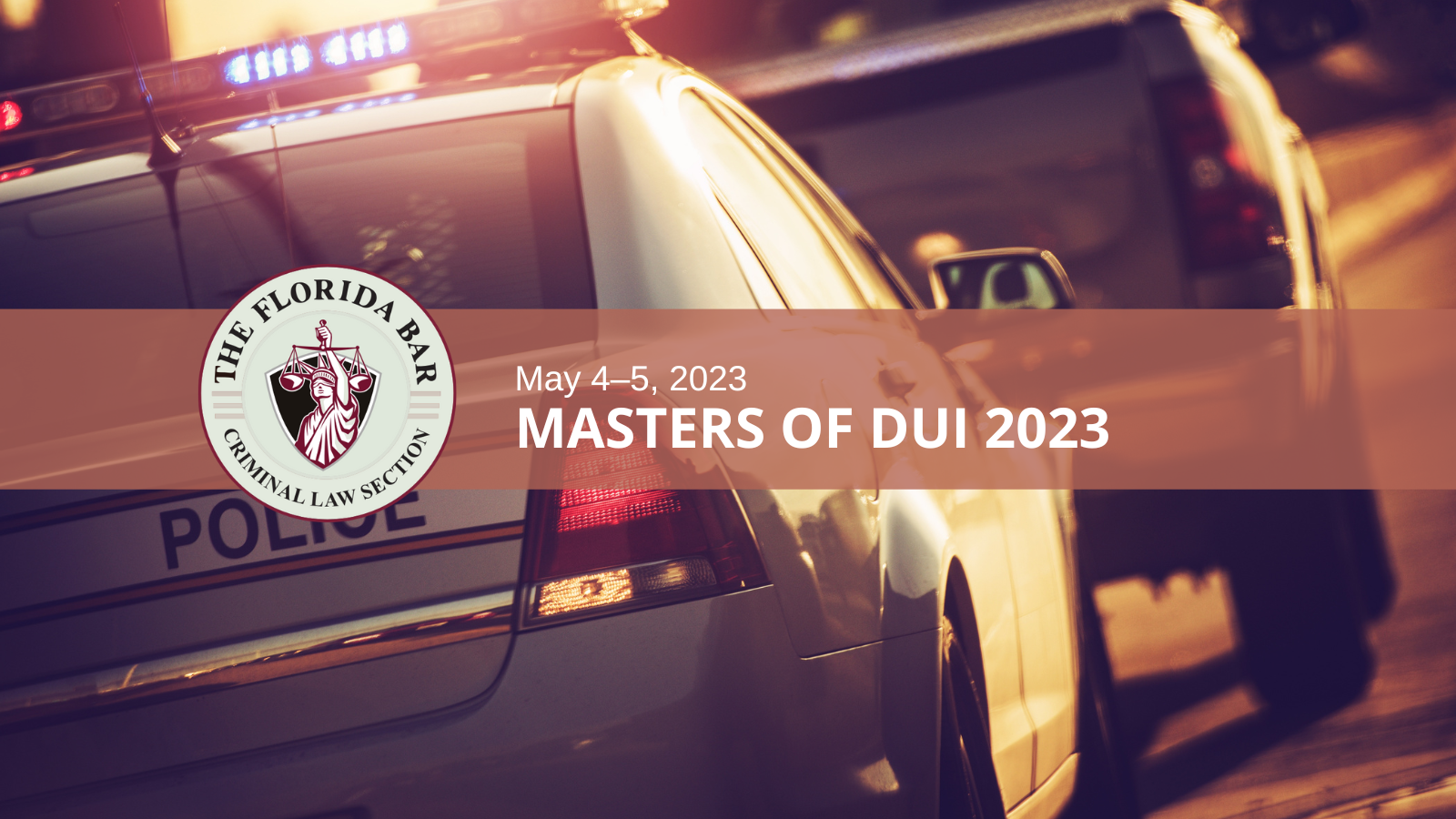 May 4 @ 8:00 am

-

May 5 @ 5:00 pm

|

$430 – $480
Masters of DUI 2023:  Top Gun Teaching for Cutting-Edge Advocacy—May 4–5—Live  (AC Hotel Tampa Airport) and Live Webcast. Registration is OPEN for the 2023 edition of the Criminal Law Section's Masters of DUI, a comprehensive, cutting-edge look at the prosecution and defense of alcohol- and drug-related vehicular offenses. Get ethics credit. Get technology credit. Learn from the Top Guns. And become one yourself.
Course number 6422 is approved for 15 General CLE credits, 3 of which may be applied toward Ethics; 1 Technology credit; and 15 certification credits each in Criminal Appellate Law and Criminal Trial Law. Webcast registrants have 90-day, on-demand access. View the event brochure here. REGISTER
This year's program promises to be our best yet and is designed for basic, intermediate, and experienced practitioners. Our top-gun faculty members—judges, lawyers, and industry experts—are some of the best legal and scientific DUI minds, all gathered to bring you up to speed on the latest in alcohol-related prosecution and defense, and to answer all of your questions on how to improve the quality of your DUI advocacy. Special thanks to Program Co-Chairs Susan H. Cohen and David M. Robbins, Epstein & Robbins, Jacksonville.
Topics include primers on case preparation, issue spotting and motion practice, proper protocols for breath and laboratory testing, the ins and outs of Florida Department of Highway Safety and Motor Vehicles administrative hearings, collateral consequences of DUIs on professional licensure, expert trial skills instruction, spotlights on DUI with serious bodily injury and DUI manslaughter cases, a case law update, a special presentation on DUI ethics by Judge Roberto Arias of Jacksonville, and more. The 2023 Masters of DUI is a one-of-a-kind CLE event you won't want to miss.

In-person live event registration:
Criminal Law Section member $430
Non-section member $460
Full-time law college faculty/student $275
Fee waiver $90 (Requires discount code. ** Must meet qualifications. For more information, email accounting@floridabar.org.)
Criminal Law Section member $480
Non-section member $510
Other Formats:  Audio CD and Video DVD products of this course will be available to purchase the week following the in-person seminar.
~ ~ ~
Day One:  Thursday, May 4, 2023
9-9:10 AM
Welcome
Program Co-Chairs Susan H. Cohen and David M. Robbins, Epstein & Robbins, Jacksonville
9:10-10 AM
Case Law Update: Knowledge is Power
Leslie M. Sammis, Sammis Law Firm, P.A., Tampa
10-10:50 AM
Issue Spotting: Putting the Power of Knowledge to Work
Tara A. Anderson, Assistant Public Defender, Sixth Judicial Circuit, Clearwater
10:50-11:05 AM
Break
11:05-11:55 AM
Preparing a Case: You're Never Too Old for Homework
Keeley R. Karatinos, Karatinos Law, PLLC, Dade City
11:55-12:30 PM
Lunch (included)
12:30-1:20 PM
Good Things Happen When You File Motions
E. Michael Isaak, Isaak Law, PLLC, Tampa
1:20-2:10 PM
Spotlight on Ethics: A Judicial Perspective
Hon. Roberto Arias, Duval County Judge, Fourth Judicial Circuit, Jacksonville
2:10-2:25 PM
Break
2:25-3:15 PM
Technology and Practice: Analyzing the Death Star Plans
Elliott A. Wilcox, The Wilcox Law Firm, P.L., Tampa
3:15-4:05 PM
Professional Licensing Issues: Those Pesky Collateral Consequences
Kevin M. Griffith, McIntosh Law, Sarasota
4:05-4:55 PM
Ethics Panel: Staying Honest While Advocating
Moderator: Brian L. Tannebaum, Brian L. Tannebaum, P.A., Miami
Panelists:
4:55-5 PM
Conclusion
Program Co-Chairs Susan H. Cohen and David M. Robbins, Epstein & Robbins, Jacksonville
~ ~ ~
Day Two:  Friday, May 5, 2023
9-9:10 AM
Welcome
Program Co-Chairs Susan H. Cohen and David M. Robbins, Epstein & Robbins, Jacksonville
9:10-10:15 AM
Nuts and Bolts of Administrative Hearings
Susan H. Cohen and David M. Robbins, Epstein & Robbins, Jacksonville; Thomas J. Moffett Jr., Chief Counsel, Bureau of Administrative Reviews, Department of Highway Safety and Motor Vehicles, Tallahassee
10:15-11:05 AM
Direct Examination: Every Story Paints a Picture
Timothy R. Bussey, The Bussey Law Firm, P.C., Colorado Springs, CO
11:05-11:20 AM
Break
11:20 AM-12:10 PM
Cross-Examination: Painting a New Picture
Mark Thiessen, Thiessen Law Firm, Houston, TX
12:10-12:45 PM
Lunch Break
12:45-1:35 PM
Breath Testing Issues: The Number is Just the Beginning
Robert N. Harrison, Robert N. Harrison, P.A., Venice
1:35-2:25 PM
Lab Protocols and Quality Control: You Mean the Analyst Report is Not Gospel?
Janine Arvizu, Certified Quality Auditor, Albuquerque, NM
2:25-2:40 PM
Break
2:40-3:30 PM
Motion Practice in DUI SBI/Manslaughter Cases: The Best Trial Lawyer is the Best Pretrial Lawyer 
Robert S. Reiff, Florida Bar Board Certified in Criminal Trial Law, Law Offices of Robert S. Reiff, P.A., Miami
3:30-4:20 PM
DUI SBI/Manslaughter Ethics and Trial Tactics: From Both Sides: When All Else Fails
John G. Kalinowski, Assistant State Attorney, Fourth Judicial Circuit, Jacksonville
Aaron M. Wayt, Pumphrey Law, Tallahassee
4:05-4:10 PM
Conclusion
Program Co-Chairs Susan H. Cohen and David M. Robbins, Epstein & Robbins, Jacksonville