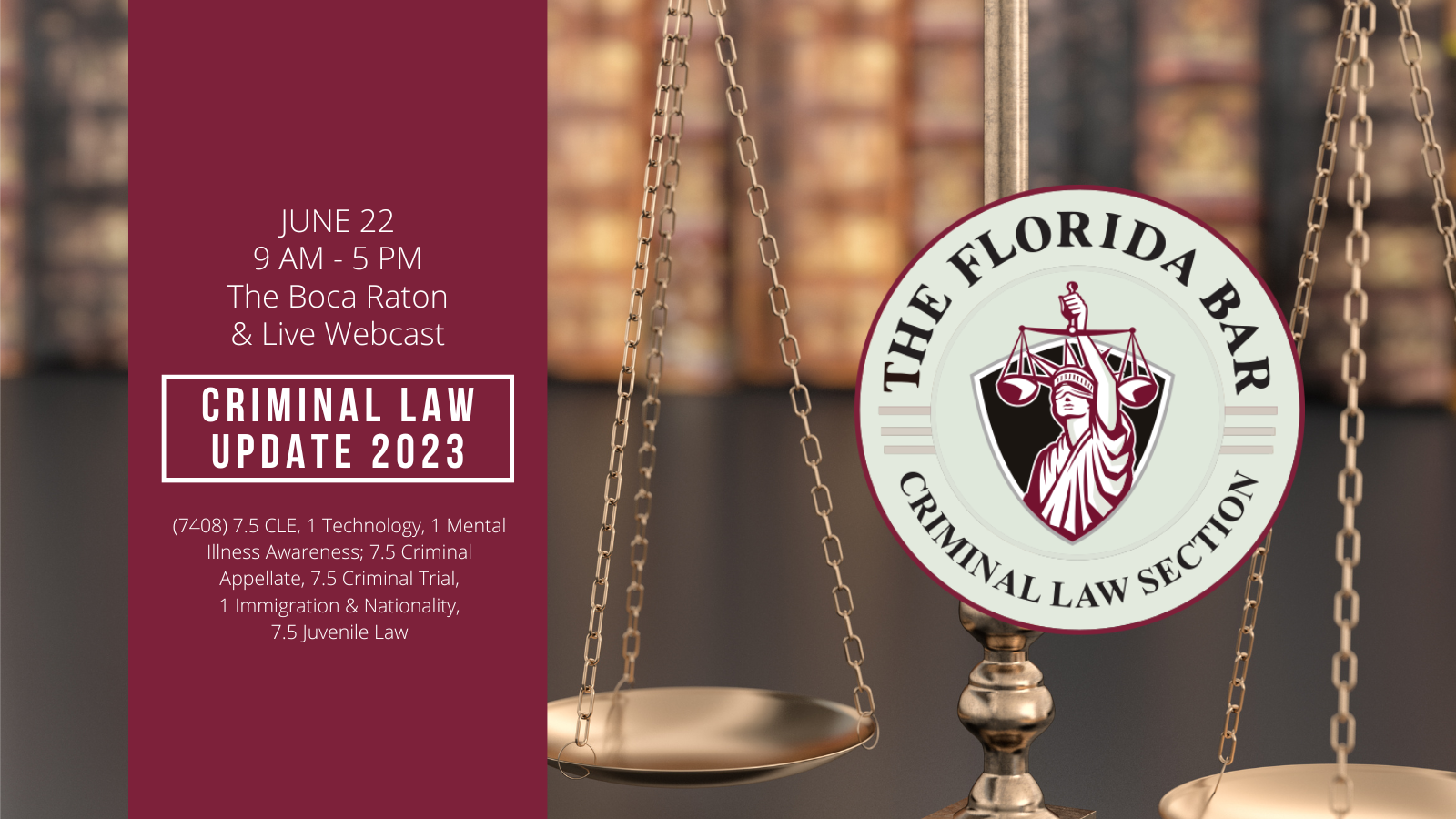 June 22 @ 9:00 am

-

5:00 pm

|

$210
Thursday, June 22, 9 AM–5 PM, live (in person) at The Boca Raton and live video webcast with 90-day, on-demand access. Course number 7408. Criminal Law Section members register for only $210 (live webcast). This seminar will also be presented in person as part of the 2023 Annual Florida Bar Convention.
CLICK HERE to register for the 2023 Annual Florida Bar Convention. Select the All-Access Convention Pass ($350 after 5/31) for access to the Criminal Law Update.
CLICK HERE to register for the live webcast.
CLE Credit:  7.5 General, 1 Technology, 1 Mental Illness Awareness,
Certification Credit: 7.5 Criminal Appellate, 7.5 Criminal Trial, 1 Immigration & Nationality, 7.5 Juvenile Law
Featuring Justice Jorge Labarga, Hank Coxe, Roy Black, and a very special presentation by Justice Peggy Quince.
To be held during the Bar's Annual Convention in Boca Raton, this year's Criminal Law Update promises to be our most exciting and informative program ever.
The daylong session will include our traditional "updates"—on recent developments in Florida and federal criminal case law, new legislation, and legislation on the horizon, and updates in the all-important worlds of DUI and "crimmigration," the intersection of our nation's immigration policies and criminal justice systems.
To begin the morning, Justice Labarga will share the very personal story of his rise to the bench, and how things Florida criminal justice "look" from where he sits right now.
Our spotlight presentation will update us on the arrest, prosecution, and treatment of those suffering issues with mental health, brought to us by the statewide leader in the field, Judge Steve Leifman.
We are also pleased to welcome Professor Christopher Slobogin of Vanderbilt Law School, to speak on his latest—and most timely—work, Virtual Searches: Regulating the Covert World of Technological Policing.
Our afternoon session kicks off with the one and only Justice Quince, who will speak passionately on our mutual, professional obligation not merely to serve, but to rescue our democratic Republic.
And we will end the day with the panel discussion of all panel discussions: the wise voices of our era, speaking blunt truth to power about "where we are" in Florida criminal justice, how we got here, and, most importantly, what are we going to do to ensure brighter, better criminal justice tomorrows for us all—featuring Justice Quince, joined by Roy Black, Judge Kevin Emas, and Fifteenth Judicial Circuit Public Defender Carey Haughwout, and our moderator of all moderators, Hank Coxe.
This is a CLE event you won't want to miss! We look forward to seeing you—at the Convention—for the 2023 Criminal Law Update.
SCHEDULE & PRESENTERS
9:00 AM–9:05 AM
Introduction
Professor H. Scott Fingerhut: Program Chair, Co-Chair of the Criminal Law Section CLE Committee, FIU College of Law, and H. Scott Fingerhut, P.A., Miami
9:05 AM–9:10 AM
Welcome
Honorable Samantha L. Ward, Chair, Criminal Law Section, Florida Bar Board Certified in Criminal Trial Law, Hillsborough Circuit Judge, Thirteenth Judicial Circuit, Tampa
9:10 AM–9:30 AM
Feature Presentation: Criminal Justice System Update
Honorable Jorge Labarga, Justice, Supreme Court of Florida, Tallahassee
9:30 AM–9:45 AM
Break
9:45 AM–10:35 AM
Case Law Update
Michael R. Ufferman, Florida Bar Board Certified in Criminal Appellate Law, Michael Ufferman Law Firm, P.A., Tallahassee
10:35 AM–11:25 AM
Scholars Corner: Virtual Searches: Regulating the Covert World of Technological Policing
Professor Christopher Slobogin, Milton R. Underwood Chair in Law, Director, Criminal Justice Program, Vanderbilt Law School, Nashville, Tennessee
11:25 AM–11:40 AM
Break
11:40 AM–12:30 PM
Immigration Law Update
Linda M. Osberg-Braun, Florida Bar Board Certified in Immigration and Nationality Law, Osberg-Braun Immigration, Miami
12:30 PM–1:00 PM
Lunch
1:00 PM–1:45 PM
Feature Presentation: Democracy at Peril
Honorable Peggy A. Quince, Justice, Supreme Court of Florida (ret.), Tampa
1:45 PM–2:35 PM
DUI Law Update
Fleming Kanan Whited, III Whited Law Firm, Daytona Beach
2:35 PM–3:25 PM
Spotlight Presentation: Florida Criminal Justice Mental Health Update
Honorable Steven Leifman, Miami-Dade County Judge, Eleventh Judicial Circuit, Miami
3:25 PM–3:40 PM
Break
3:40 PM–4:55 PM
Wisdom of Ages: A Blunt Criminal Justice Discussion About What's Going On in Florida and What We Are Going to Do About It
Moderator: Hank Coxe, Past President, The Florida Bar, Florida Board Certified in Criminal Trial Law, Bedell, Dittman, DeVault, Pillans & Coxe, Jacksonville
Panelists:
Roy Black, Black Srebnick, Miami
Honorable Kevin Emas, Judge, Florida Third District Court of Appeal, Miami
Honorable Carey S. Haughwout, Florida Bar Board Certified in Criminal Trial Law, Public Defender, Fifteenth Judicial Circuit, West Palm Beach
Honorable Peggy A. Quince, Justice, Supreme Court of Florida (ret.), Tampa
4:55 PM–5:00 PM
Conclusion
Professor H. Scott Fingerhut: Program Chair, Co-Chair of the Criminal Law Section CLE Committee, FIU College of Law, and H. Scott Fingerhut, P.A., Miami