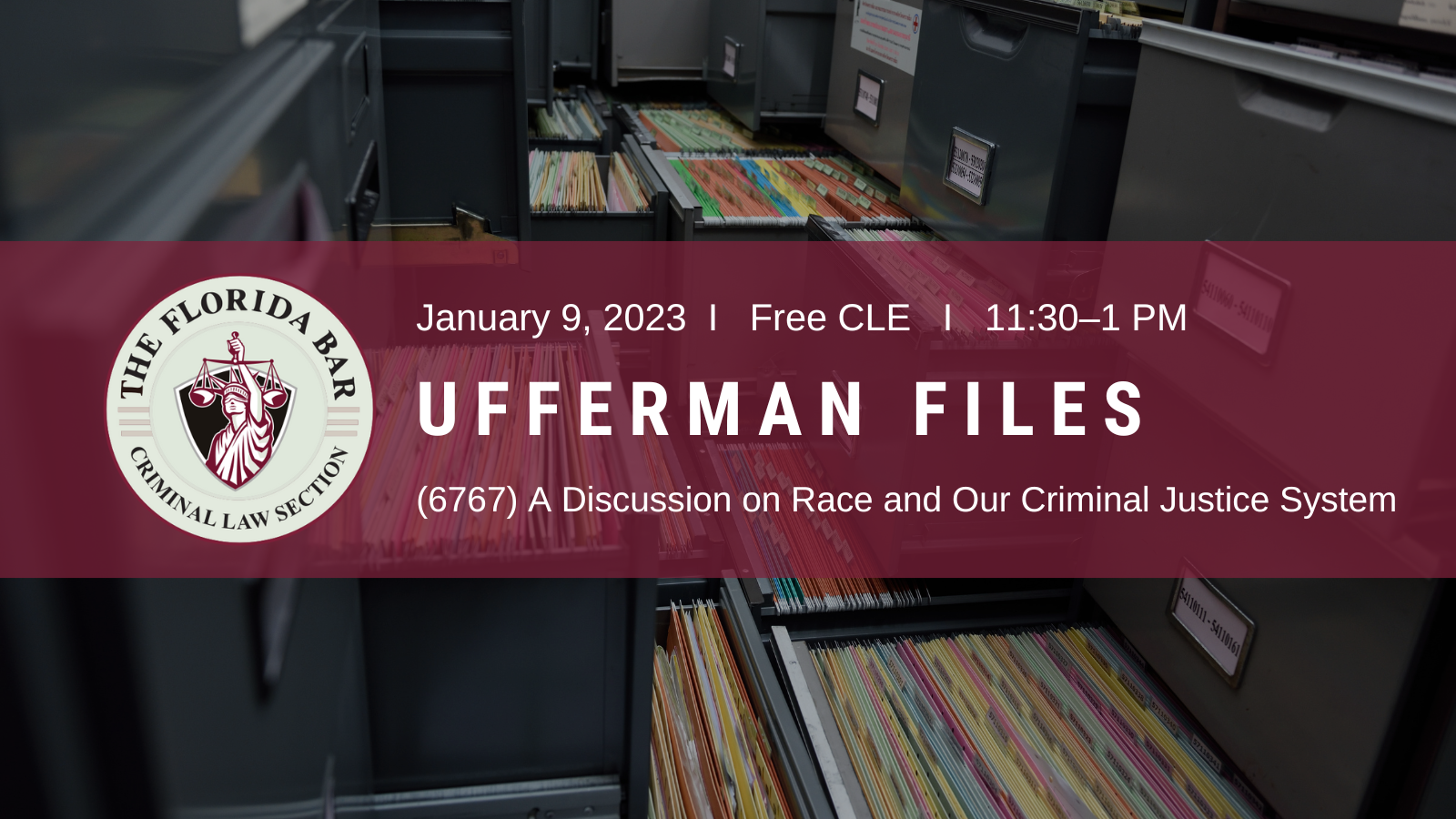 January 9 @ 11:30 am

-

1:00 pm

|

Free for CLS Members
UFFERMAN FILES Series Webisode 2:  A Discussion on Race and Our Criminal Justice System. Free Zoom CLE for Criminal Law Section members; non-members register for only $30, which includes section membership. Course number 6767 is approved for the following credits:  CLER Program (max credit: 2.0 hours)—General: 2.0 hours, Bias Elimination: 2.0 hours. Certification Program (max credit: 2.0 hours)—Appellate Practice: 2.0 hours, Criminal Trial Law: 2.0 hours, Criminal Appellate Law: 2.0 hours, Juvenile Law: 2.0 hours. REGISTER
The Criminal Law Section of The Florida Bar is proud to present UFFERMAN FILES, a series of important conversations and presentations on all things criminal justice, featuring host Michael Ufferman of the Michael Ufferman Law Firm in Tallahassee.
On Webisode 2 of UFFERMAN FILES, host Michael Ufferman will moderate a panel discussion on race in our criminal justice system. His distinguished guests are NACDL President Nellie L. King, ethics lawyer Brian Tannebaum (former FACDL president and author of "The Practice"), and criminal defense lawyer Brice Aikens (Florida Bar board certified in Criminal Trial and former division chief for the Orange County Public Defender's Office).  The panel will discuss if — and how — race continues to be a factor in our system, in areas including pretrial detention, jury selection, trial arguments, and sentencing. This 90-minute presentation will be both provocative and educational for prosecutors, defenders, and judges alike. Be sure to tune in!
Each live Zoom webinar is free for Criminal Law Section members; non-members register for only $30, which includes section membership.

Michael is a Florida Bar Board Certified Criminal Appellate Lawyer and author of Thomson Reuters' Florida Criminal Practice and Procedure, a comprehensive guide to pretrial criminal procedure, investigation of criminal offenses, and stages of trial. Before private practice, Michael clerked for Justice Major B. Harding at the Supreme Court of Florida. He is a past president of the Florida Association of Criminal Defense Lawyers, a former board member of the Innocence Project of Florida, a current member of The Florida Bar's Criminal Law Certification Committee, and a member of the Criminal Law Section Executive Council.