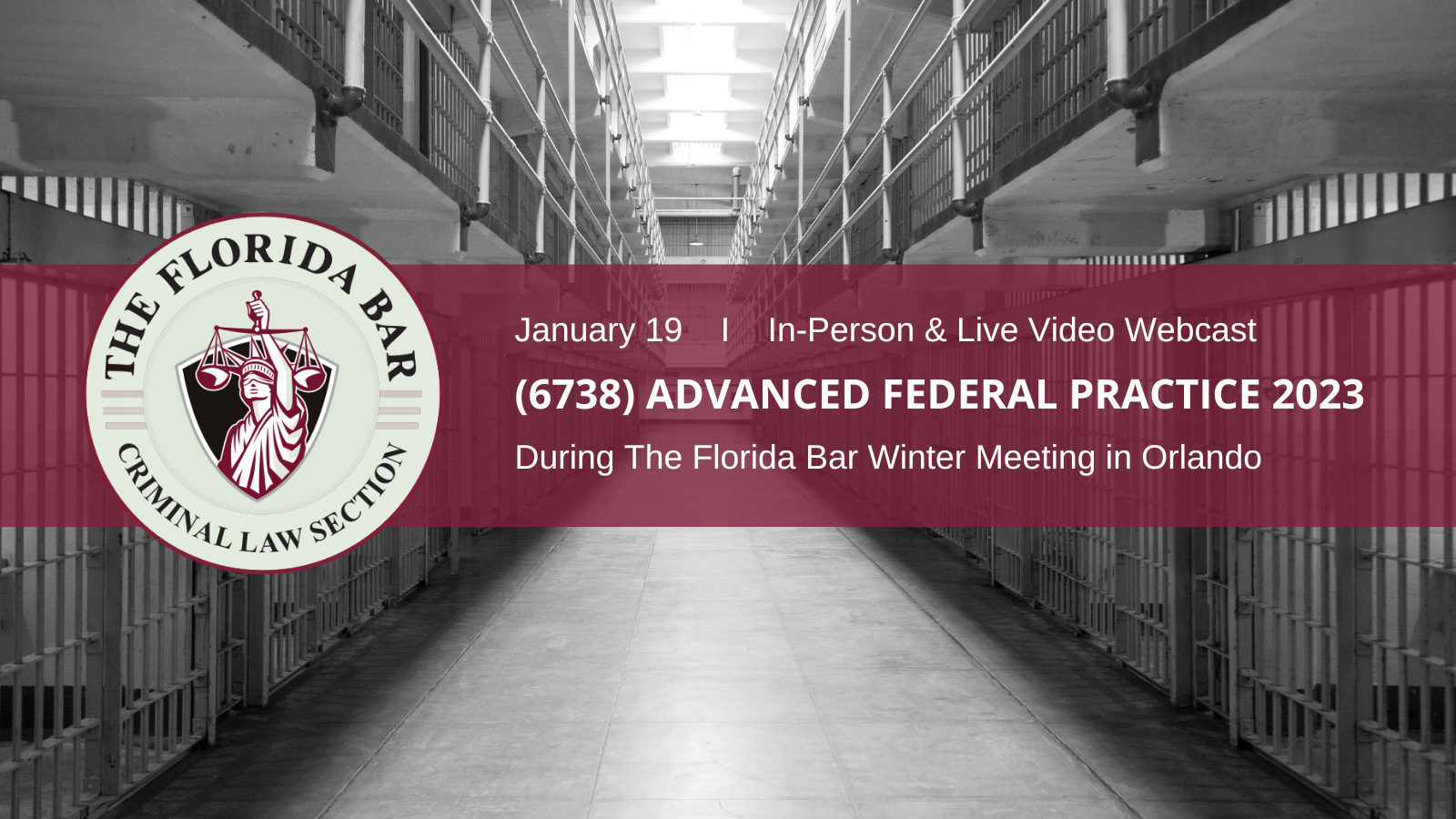 January 19 @ 9:00 am

-

4:45 pm

|

$250
(6783) Advanced Federal Practice 2023—originally presented on January 19, 2023—in-person (Orlando) and live video webcast. Now available to purchase in online seminar (on-demand) and downloadable audio formats. Criminal Law Section members may purchase either format for only $250. Also available in CD ($225) and DVD ($280) formats.
The Criminal Law Section of The Florida Bar proudly presents (6738) Advanced Federal Practice 2023, the Bar's preeminent CLE offering for bench and bar adjudicating criminal cases in federal court. This year's program features timely topics, from pretrial to trial, sentencing, and appeal, and presenters specializing in the intricacies of federal criminal prosecution and defense.
Featured topics include deep dives into federal forfeiture proceedings, recent Eleventh Circuit case law, district court issue preservation for matters in the appellate pipeline, theories of mass prosecution, and an inside look at the U.S. Sentencing Commission. We also are privileged to present a very special judicial panel on trying high-profile and emotionally charged cases.
Course number 6738 is an advanced-level program that is approved for 7 General CLE credits and 7 certification credits each in Criminal Appellate and Criminal Trial Law.
SCHEDULE (January 19, 2023)

9–9:10 AM   Welcome
Margot Moss, Markus/Moss PLLC, Miami, and Marissel Descalzo Tache, Bronis and Descalzo, P.A., Miami, Program Co-Chairs
9:10–10 AM   Pipeline Issue Preservation: Preserving Issues in District Court That Are Working Their Way To and Through The Eleventh Circuit
Lauren Field Krasnoff, Assistant Federal Public Defender, Southern District of Florida
10–10:50 AM   Eleventh Circuit Update: The Bad, The Ugly… Is There Any Good?
Tracy M. Dreispul, Assistant Federal Public Defender, Southern District of Florida
10:50–11:05 AM   Break
11:05–11:55 AM   From 6/1 to 1/6: Theories of Mass Prosecution
Michael R. Sherwin, Kobre & Kim LLP, Miami, and A. Margot Moss, Markus/Moss PLLC, Miami
11:55 AM–1:10 PM   Lunch
1:10–2 PM   Show Me The Money: The Government's Relentless Pursuit of Forfeiture
Steven R. Welk, Senior Counsel, Steptoe & Johnson LLP, Los Angeles, California

2–2:50 PM   Judicial Panel: Trying The High-Profile, Emotionally-Charged Case
Panelists: Hon. Roy K. Altman, United States District Court, Southern District of Florida, Miami; Hon. Paul G. Byron, United States District Court, Middle District of Florida, Orlando; Hon. Raag Singhal, United States District Court, Southern District of Florida, Fort Lauderdale.  Moderator: Marissel Descalzo Tache, Bronis and Descalzo, P.A., Miami

2:50–3:05 PM    Break

3:05–3:55 PM   Speaking From The Heart(land): Kathleen Grilli on the U.S. Sentencing Commission
Kathleen J. Grilli, General Counsel, United States Sentencing Commission, Washington, D.C., and Michael Caruso, Federal Public Defender, Southern District of Florida, Miami
3:55–4:45 PM   Anatomy of a Winning Defense: A Deep Dive Into U.S. v. Walton
Vincent A. Citro, Florida Bar Board Certified in Criminal Trial Law, Law Offices of Horwitz & Citro, P.A., Orlando
4:45 PM   Conclusion
Margot Moss, Markus/Moss PLLC, Miami, and Marissel Descalzo Tache, Bronis and Descalzo, P.A., Miami