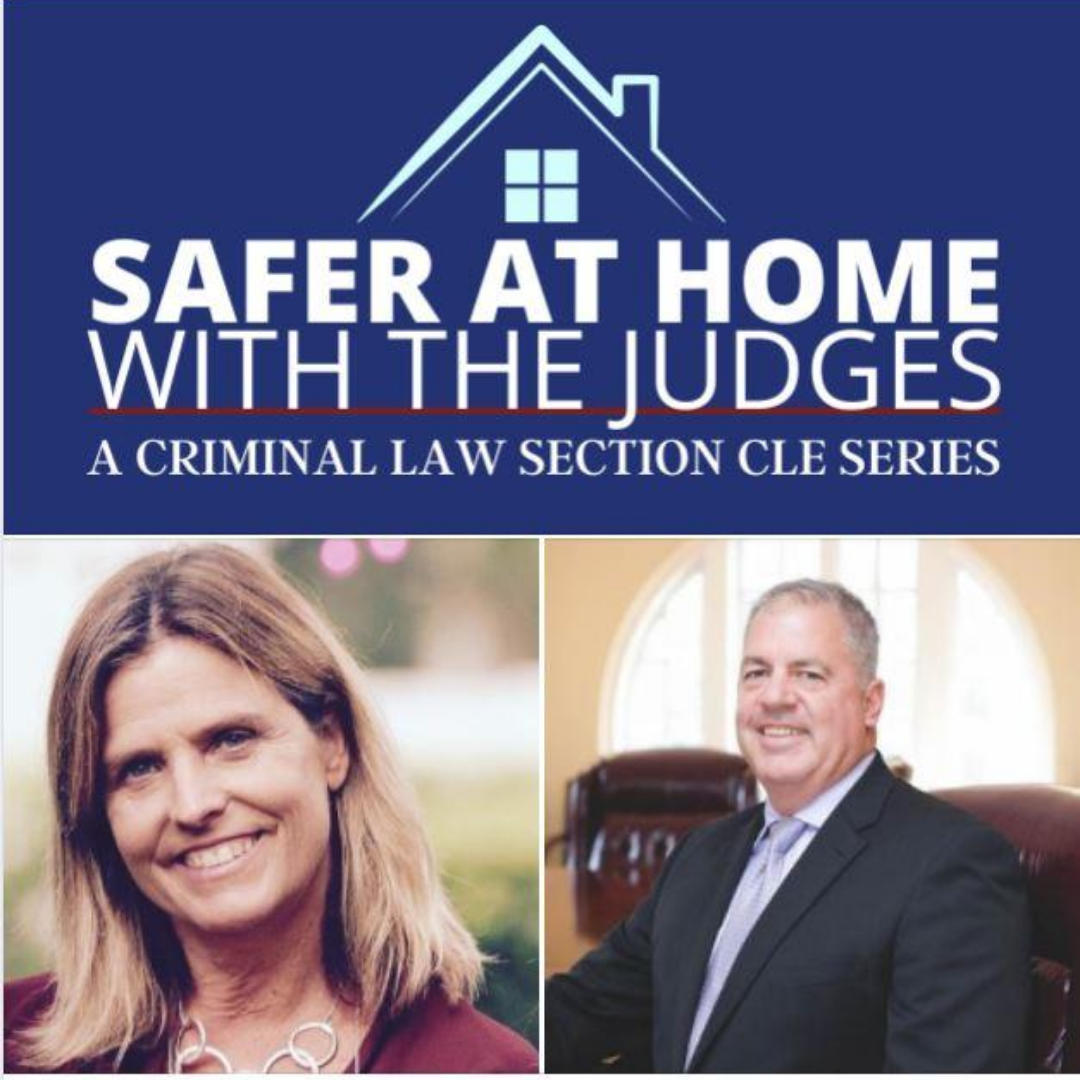 C4110 Getting Your Questions Answered: Jury Selection in Criminal Cases
17 September, 2020 @ 4:00 pm

-

5:00 pm

|

$50
The Florida Bar Criminal Law Section is proud to present Safer at Home with the Judges, a CLE series featuring the spectacular Judges Harris — the Honorable Jennifer Harris, currently a circuit judge in Orange County, and her husband, Judge Patrick Harris, now retired from the Ohio state court bench. Sharing their wit and wisdom with us on a range of important and interesting topics each month, the Harrises depth of legal insight, superior teaching skills, and practical approach to complex problem solving are just some of what makes them such popular and effective CLE presenters nationwide.
Getting Your Questions Answered: Jury Selection in Criminal
The one-hour CLE will provide practitioners with an overview on how to effectively and professionally ask sensitive questions at jury selection. The presentation will cover jury selection studies, suggested questions on sensitive topics and methods for effective jury selection.
Thursday, September 17, 2020
4:00pm – 5:00pm
Hon. Jenifer Harris

Jenifer Melander Harris presides as a Circuit Judge for the Ninth Judicial Circuit (Orlando) Florida. She has served since 2007 mostly in the Criminal Division but she has also presided in Juvenile, Probate and Domestic.
Judge Harris serves as faculty for Courtroom College, providing criminal law attorneys Real World Knowledge for Real Law Practice. She is also faculty with the National Judicial College teaching a variety of courses to judges throughout the United States. Her courses have included Case Management, Trial Skills, Advanced Evidence, Handling Capital Cases, and Bench Skills for new Judges.  She serves on the Education Committee for the Florida Judicial Conference and was the Criminal Track Lead from 2014-2017. In addition, she regularly lectures for the state-wide conferences on a variety of topics including criminal constitutional issues, technology, evidence, and legal updates.
Jenifer Harris is an Adjunct Professor at Barry University School of Law teaching constitutional criminal procedure, courtroom criminal procedure, and criminal law. She has previously taught as an adjunct for the University of Florida, University of Central Florida, and University of North Florida.
Prior to being a judge, she worked as an Assistant Public Defender in Orlando and Gainesville. During her time as a Criminal Defense Attorney, she tried cases at all levels and became Board Certified in Criminal Trials, letting it lapse during her judicial tenure.
She graduated from University of Florida: B.A. (1987); J.D. with honors (1990), and M.A. Sociology/Criminology (1999). She has previously served on the Criminal Rules and the Evidence Committee of the Florida Bar.
Judge Harris co-authors Florida Criminal Practice and Procedure, Third Edition, Lexis, (2019).
Hon. Patrick Harris (Retired)
Patrick N. Harris served twelve years on the Ohio Municipal Court bench. He retired from Fairfield County in November of 2015 and moved to Florida.  During his tenure on the bench he presided over a docket that consisted of both criminal, traffic, and civil cases. He created the first adult Mental Health Court in his central Ohio County.  Judge Harris served on the Executive Committee of the Ohio Judicial Conference, and in 2012 he was selected by the Chief Justice of the Ohio Supreme Court to be one of two Ohio Judges to attend the National Judicial College's first Theory and Practice of Judicial Leadership training in Reno, Nevada.
Judge Harris is the president of Courtroom College, providing criminal lawyers "Real World Knowledge for Real Law Practice". He is on the faculty of the National Judicial College where he has taught courses on advanced evidence, electronic evidence, and conducting sex offense trials. He lectures frequently on Fifth and Sixth Amendment law for the Florida Association of Criminal Defense Lawyers, and is co-author of the Florida Criminal Practice and Procedure Manual.  He is also an adjunct professor at the Barry University Dwayne O. Andreas School of Law in Orlando where he teaches trial advocacy.
A 1991 graduate of The Ohio State University College of Law, he began his legal career as a prosecutor for the Athens County and Fairfield County Child Support Enforcement Agencies.  From 1996 to 2000 he continued his work as a prosecutor with the Lancaster City Law Director's Office and the Fairfield County Prosecuting Attorney's office. In 2000, he became the first County Administrator in Fairfield County, Ohio, where he served until his election to the bench in 2003.  He is currently admitted to practice law in both Ohio and Florida, and has a private criminal defense practice, Harris Law Firm, in Central Florida.
CLE ACCREDITATION
General: 1.0
Technology: 1.0
CERTIFICATION CREDITS
Appellate Practice: 1.0
Criminal Appellate Law: 1.0
Criminal Trial Law: 1.0
Juvenile Law: 1.0