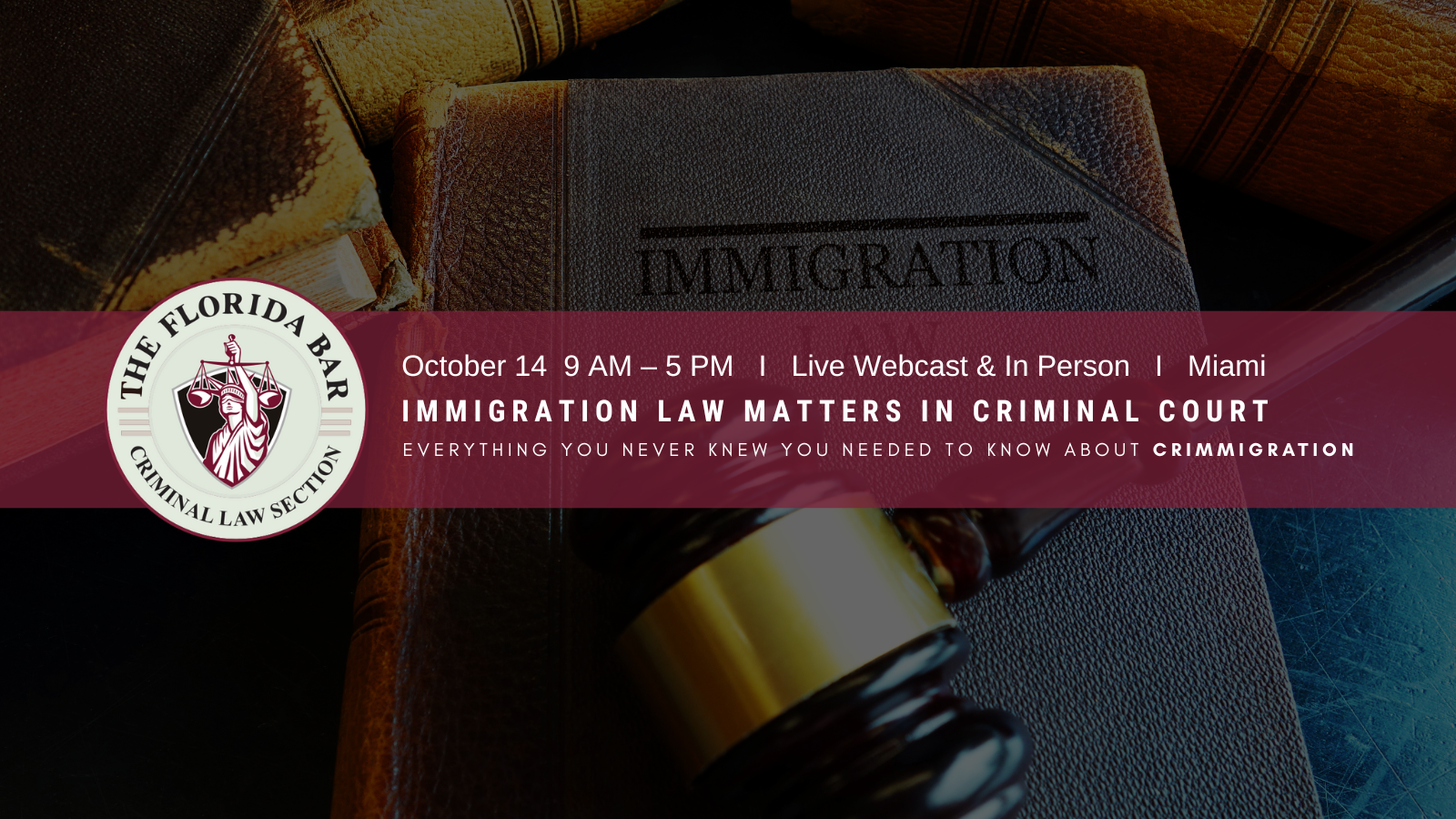 October 14 @ 9:00 am

-

5:00 pm
Immigration Law Matters in Criminal Court: Everything You Need to Know About Crimmigration—October 14, 9 AM–5 PM—Live, In Person (InterContinental Miami, 100 Chopin Plaza, Miami, FL 33131, 305-577-1000) and Live Webcast. Course number 6410 is approved for 6 General CLE credits and 6 certification credits (6 max) in Appellate Practice, Criminal Appellate, Criminal Trial, and Immigration & Nationality.
In-person live event:
Criminal Law Section members $225; non-section members $255
Live video webcast:
Criminal Law Section members $275; non-section members $305
This CLE is designed for criminal law practitioners and judges alike to bring you up to speed to handle the inevitable—the intersection between immigration and criminal law and procedure. Our day-long program will provide in-depth training on key topics at introductory, intermediate, and advanced levels of handling criminal cases having immigration consequences—for both prosecution and defense. Topics to be covered include classification, detention, removal, deportability, and inadmissibility; types of immigration court relief; motions to reopen deportation proceedings; and best practices for seeking criminal post-conviction relief for immigration purposes, including vacaturs, expungements, and sentence modifications in state and federal court. You will learn the most up-to-date case law and legal arguments in pursuing the best possible resolutions for noncitizen-defendants facing criminal charges. And our very special keynote address will be given by Judge Roy K. Altman of the United States District Court for the Southern District of Florida. This program is an educational must for all criminal lawyers and jurists to fully appreciate the many complexities of how criminal cases impact and are impacted by our country's immigration system.
Level: Intermediate
Location: Miami
Delivery: In-person and live-streamed
Food: Provided on-site (breakfast; mid-morning snack; lunch; mid-afternoon snack)

SCHEDULE
9 – 9:05 AM
Welcome

H. Scott Fingerhut
, FIU College of Law and H. Scott Fingerhut, P.A., Miami, CLE Co-Chair, Criminal Law Section
9:05 – 9:10 AM
Introduction
Maggie Arias
, Arias & Pereira, PLLC, Coral Gables, Program Chair
9:10 – 9:30 AM
Opening Remarks
Hon. Michael Caruso
, Federal Public Defender, Southern District of Florida, Miami
9:30 -10:20 AM
Crimmigration 101: "But I'm not an immigration lawyer…."
Dominique Pando Bucci
, Pando Bucci Law, PLLC, Miami Beach
Adonia R. Simpson
, Director of Policy and Pro Bono, ABA Commission on Immigration, Washington, D.C.

10:20 – 10:35 AM
Break
10:35AM – 12:15 PM
Crimmigration 201: When Criminal Cases Cause Immigration Harm
John Gihon
, Florida Bar Board Certified, Immigration and Nationality Law, Shorstein, Lasnetski & Gihon, Altamonte Springs
Sean B. Mendez-Catlin
, MC & J, PLLC, Orlando
Linda M. Osberg-Braun
, Florida Bar Board Certified, Immigration and Nationality Law, Osberg-Braun Immigration, Miami
12:05 – 1 PM
Lunch (provided)
1 – 1:30 PM
Keynote Address
Hon. Roy K. Altman
, United States District Judge, Southern District of Florida, Miami

1:30 – 1:45 PM
Break
1:45 PM – 3 PM
Crimmigration 301: The Ins and Outs of Immigration Court
Hon. Denise Noonan Slavin
, Immigration Judge (ret.), Baltimore, Maryland
Gracie Willis
, Southern Poverty Law Center, Immigrant Justice Project, Atlanta, Georgia

3:10 – 3:25 PM
Break
3:25 – 4:05 PM
Crimmigration 401: Post-Conviction Relief in the Immigration Context: Will it Help or Hurt?
Raymond Bolourtchi
, Cofman & Bolourtchi, LLC, St. Louis, Missouri
Michael S. Vastine
, Director of Clinical Programs and Professor of Law, St. Thomas University School of Law, Miami Gardens
4:05 – 4:55 PM
Crimmigration 501: Case Law Update
Mark A. Prada
, Prada Urizar, PLLC, Miami
Rebeca Sanchez-Roig
, Sanchez-Roig, P.A., Miami
Benjamin S. Waxman
, Florida Bar Board Certified, Criminal Appellate Law, Black, Srebnick, Kornspan & Stumpf, P.A., Miami
4:55 – 5 PM
Conclusion
Maggie Arias
, Arias & Pereira, PLLC, Coral Gables, Program Chair