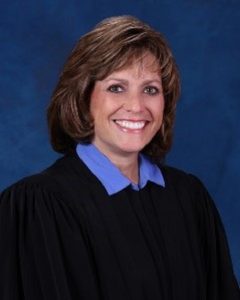 Email:
wardsl@fljud13.org
Bio:  The Honorable Samantha L. Ward is a Circuit Court Judge in Tampa (Hillsborough County). Elected in August 2008, she took the bench in January 2009 where she is currently assigned to a Circuit (Felony) Criminal division. She previously served in the Family Law Division. Prior to becoming a judge, she served as the Major Crimes Bureau Chief at the Office of the Public Defender in Tampa. She worked there for 15 years, handling the defense of homicide and death penalty cases, as well as assisting in the training and supervision of attorneys within the office. Prior to that, she was a prosecutor in Tampa for almost four years.
Judge Ward is Florida Bar Board Certified in Criminal Trial Law and currently serves on The Florida Bar Criminal Procedure Rules Committee. She is active in the Hillsborough County Bar Association and Hillsborough Association for Women Lawyers and the Ferguson-White, Family Law, and Goldburg-Cacciatore Inns of Court. She is a board member of The Children's Home, Inc.
Judge Ward graduated from Florida State University College of Law in 1990 and the University of Florida in 1987.