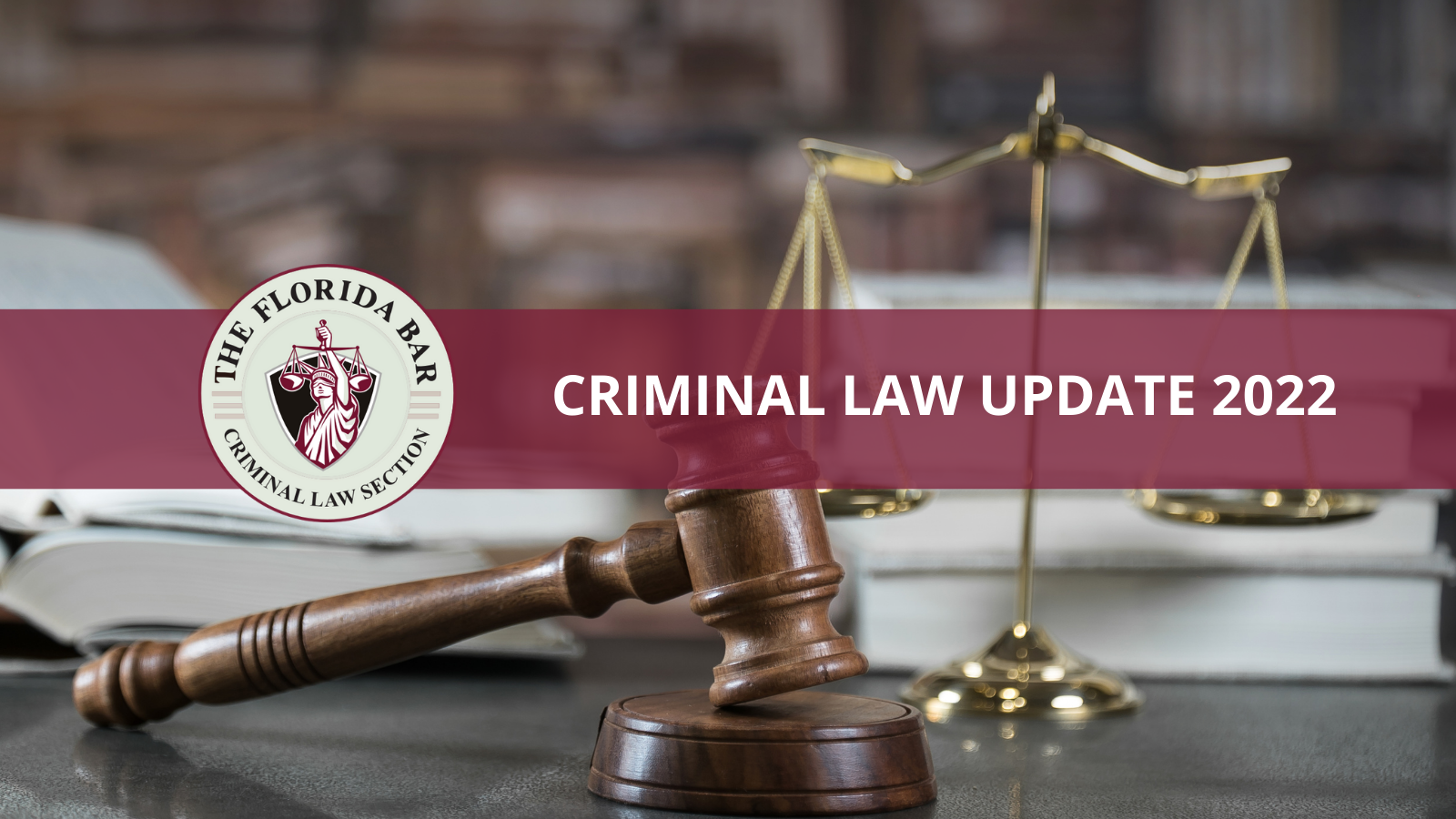 8 April, 2022 @ 9:00 am

-

4:30 pm

|

$200 – $250
Please join us—on the beautiful FIU Law campus in Miami, or by video webcast—for the 2022 Criminal Law Update, featuring our very special guest, Justice Peggy A. Quince, who will speak on threats to the independence, fairness, and impartiality of Florida's judiciary.
Course 5623 credits: 1 Bias Elimination, 7 Juvenile Law, 1 Technology, 7 General, 7 Appellate Practice, 7 Criminal Appellate, 7 Criminal Trial. Section members register for only $250 (live webcast) or $200 (in person).
This year's program also presents the latest case law, juvenile sentencing, and immigration updates, a rundown of significant laws recently enacted by the Florida Legislature, and criminal justice perspectives from leaders across the state, including the Florida Conferences of Circuit and County Judges, Florida Prosecuting Attorneys Association, Florida Public Defender Association, Office of Criminal Conflict and Civil Regional Counsel, Florida Association of Criminal Defense Lawyers, and our Criminal Law Section.  In addition, we are privileged to include in our program a demonstration of the Equity in Sentencing Analysis System (ESAS®)—"the criminal justice equalizer"—a groundbreaking software tool designed to eliminate unjust disparities in sentencing.
9:00 AM – 9:05 AM
Introduction
Professor H. Scott Fingerhut, FIU College of Law and H. Scott Fingerhut, P.A., Miami
9:05 AM – 9:10 AM
Welcome
Antony Page, Dean and FIU Foundation Professor of Law, FIU College of Law, Miami
9:10 AM – 9:20 AM
Message From the Chair
Jason B. Blank, Chair, Criminal Law Section, Haber Blank, LLP, Fort Lauderdale
9:20 AM – 10:10 AM
Florida Case Law Update
Megan Long, Chief, Appellate Division, Law Office of Jessica J. Yeary, Public Defender, 2nd Judicial Circuit, Tallahassee
10:10 AM – 11:00 AM
Juvenile Spotlight: Ten Years After Miller v. Alabama: Case Law Overview and Update
Roseanne Eckert, Board Certified in Criminal Trial, The Eckert Law Firm, Orlando
11:00 AM – 11:15 AM
Break
11:15 AM – 12:30 PM
Spotlight Presentation: Fostering True Justice: The Equity in Sentencing Analysis System (ESAS®): What It Is and How It Works
A. Wellington "Al" Barlow, Technologies for Justice, Jacksonville
12:30 PM – 1:00 PM
Lunch (provided)
1:00 PM – 1:30 PM
Feature Presentation: "Do We Have An Independent, Fair, and Impartial Judiciary?"
Justice Peggy A. Quince, Tampa, Florida Supreme Court (ret.)
1:30 PM – 1:45 PM
Break
1:45 PM – 1:55 PM
Message from the Circuit Bench
Hon. Nicholas Thompson, Chair-Elect, Florida Conference of Circuit Judges, Lee County Circuit Judge, 20th Judicial Circuit, Fort Myers
1:55 PM – 2:05 PM
Message from the County Bench
Hon. Thomas P. Thompson III, President, Conference of County Court Judges of Florida, Marion County Court Judge, 5th Judicial Circuit, Ocala

2:05 PM – 2:15 PM
Message from the State
Garett Berman, Executive Director, Florida Prosecuting Attorneys Association, Tallahassee
2:15 PM – 2:25 PM
Message from the Defense (Public)
Rex Dimmig, President, Florida Public Defender Association, Public Defender, 10th Judicial Circuit, Lakeland
2:25 PM – 2:35 PM
Message from the Defense (Regional Counsel)
Ita M. Neymotin, Regional Conflict Counsel, Second Region of Florida, Fort Myers
2:35 PM – 2:45 PM
Message from the Defense (Private)
Jude M. Faccidomo, President, Florida Association of Criminal Defense Lawyers, Ratzan & Faccidomo LLC, Miami
2:45 PM – 3:00 PM
Break
3:00 PM – 3:50 PM
Immigration Update
Linda Osberg-Braun, Board Certified in Immigration and Nationality Law, Osberg-Braun Immigration, Miami
3:50 PM – 4:30 PM
Legislative Update
Professor H. Scott Fingerhut, Miami
4:30 PM – 4:30 PM
Conclusion
Professor H. Scott Fingerhut, Miami