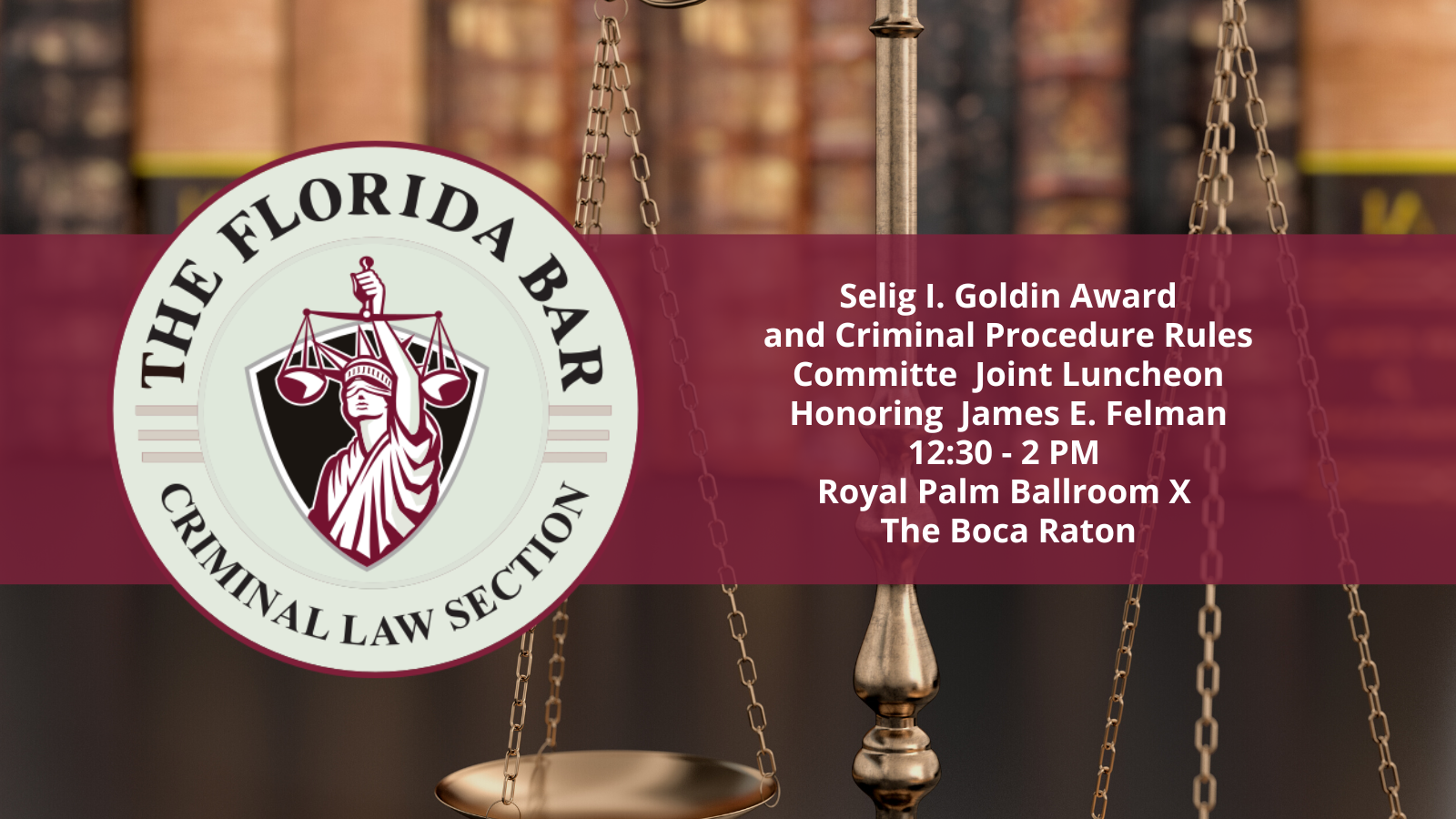 June 23 @ 12:30 pm

-

2:00 pm

|

$60
Please join us on Friday, June 23, in Royal Palm Ballroom X at The Boca Raton for the Criminal Law Section Selig I. Goldin Award and Criminal Procedure Rules Committee Joint Luncheon honoring 2023 recipient James E. Felman, Kynes, Markman & Felman, P.A., Tampa.
$60 ticket required; purchase through Annual Convention registration.

James E. Felman has concentrated his practice of law in the defense of complex criminal matters and related civil litigation for over 30 years. Mr. Felman represents clients in federal and state matters in every phase of the criminal process — investigation, trial, sentencing, appeal, and post-conviction proceedings. He has represented clients in a wide range of matters, including allegations of bank fraud, health care fraud, mail and wire fraud, securities fraud, public corruption, environmental crimes, antitrust violations, synthetic/illegal drugs, illegal gambling, child abuse/pornography, and murder. Mr. Felman has also devoted a significant portion of his professional efforts to legal reform and policy work. He has testified on an array of topics before the United States Senate, House of Representatives, and Sentencing Commission, and has given more than 100 presentations on criminal justice policy issues. He is a Past Chair of the Criminal Justice Section of the American Bar Association. From 2014-2017 he served as a member of the Steering Committee of the Clemency Project 2014. Mr. Felman is a graduate of Wake Forest University, B.A. cum laude, 1984, and Duke University, M.A. Phil. and J.D. with high honors (Order of the Coif), 1987. Following law school, he was a law clerk to Judge Theodore McMillian of the United States Court of Appeals for the Eighth Circuit.