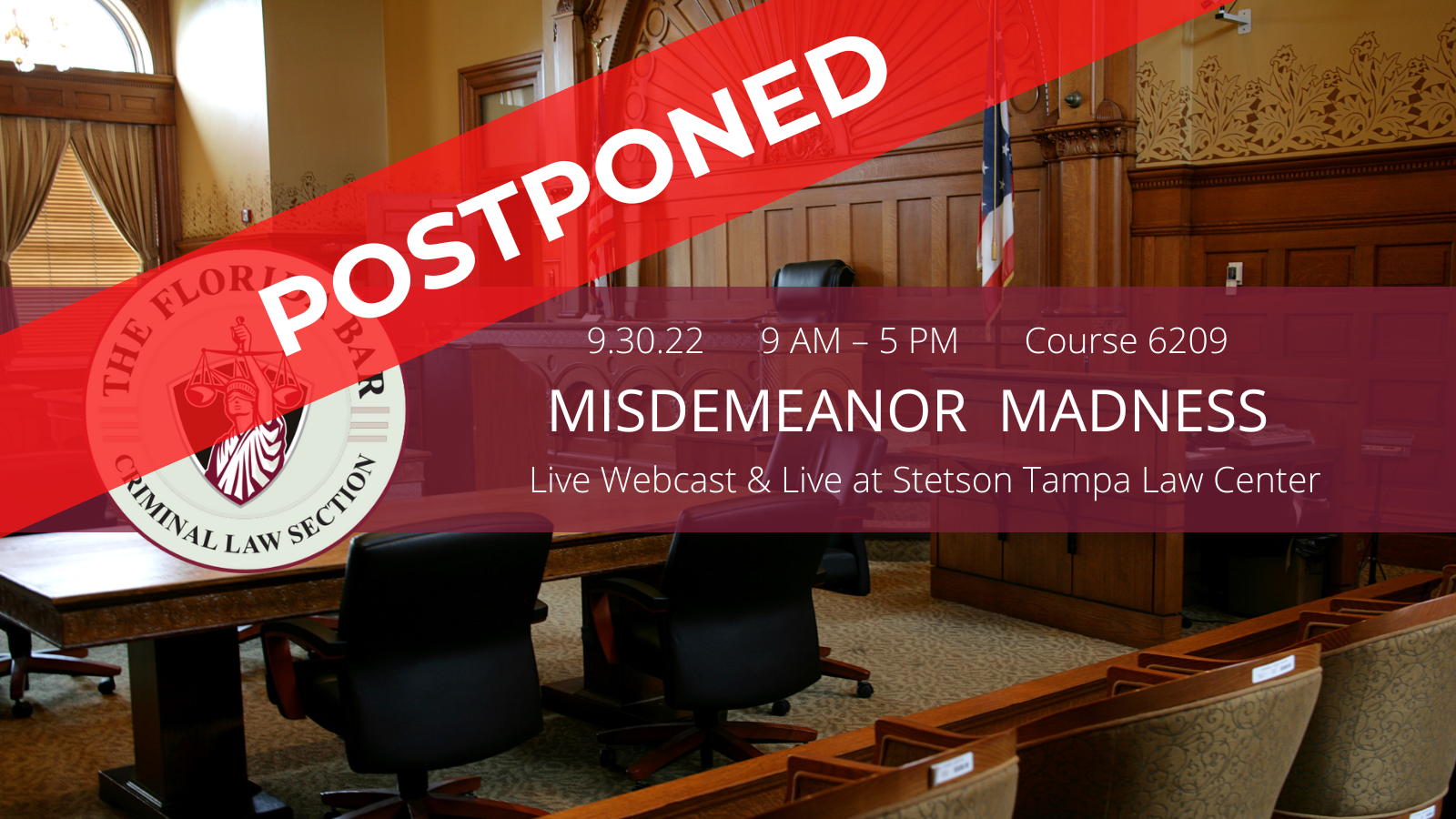 30 September, 2022 @ 9:00 am

-

5:00 pm

|

$205
POSTPONED DUE TO SEVERE WEATHER THREAT. We will notify you when this program is rescheduled.
(6209) Misdemeanor Madness 2022—September 30, 9 AM–5 PM—Live (Stetson Tampa Law Center) and Live Webcast.
Don't miss this! The Criminal Law Section is proud to present Misdemeanor Madness, a must-attend CLE for all county court practitioners—state and defense—that will benefit misdemeanor lawyers of all experience levels. *In-person at Stetson Tampa Law Center and live webcast.* Criminal Law Section members register for only $205.
The program covers navigating direct and cross-examinations; misdemeanor driver license consequences; error preservation and other misdemeanor matters on appeal; presentation of computer, audio/video, and cell phone forensic experts in county court; best practices on negotiating misdemeanor cases to resolution; a case law update; and a special judicial panel discussing misdemeanor ethics, civility, and professionalism.
Course 6209 is approved for 8 General CLE credits, .5 of which may be applied toward Ethics; 1.5 Technology and .5 Professionalism. Certification Program (max credit: 8.0 hours): 8 credits each in Appellate Practice, Criminal Appellate, Criminal Trial Law and Juvenile Law.
In-person live event: REGISTER
Criminal Law Section member – $205
Non-section member – $235
Full-time law college faculty/student – $138
Fee waiver – $40 (Requires discount code). Must meet qualifications. For more information, email accounting@floridabar.org.
Live Webcast:  REGISTER
Criminal Law Section member – $255
Non-section member – $285

SCHEDULE
9:00 AM – 9:10 AM
Welcome
L. Lee Lockett, Program Chair, Jacksonville Beach
9:10 AM – 10:00 AM
Case Law Update – With a Misdemeanor Twist
E. Michael Isaak, Tampa
10:00 AM – 11:00 AM
A Discussion of County Court Decorum: Misdemeanor Ethics, Civility and Professionalism — Pet Peeves and Dos and Don'ts
Moderator: L. Lee Lockett
Panelists:
Hon. Kelly E. Eckley-Moulder, County Court Judge, Fourth Judicial Circuit, Jacksonville
Hon. Erika Quartermaine, County Court Judge, 12th Judicial Circuit, Sarasota
Hon. Kerra A. Smith, County Court Judge, First Judicial Circuit, Pensacola
11:00 AM – 11:10 AM
Break
11:10 AM – 12:15 PM
Tips From the Top: Suspension, Cancellation, Revocation, and Disqualification: An Important Discussion on Understanding Misdemeanor Driver License Consequences
Tom Moffett, Deputy Chief Counsel, FLDHSMV, Tallahassee
12:15 PM – 1:00 PM
Lunch
1:00 PM – 1:50 PM
Navigating Direct and Cross Examinations for Some of County Court's Most Frequently Called Witnesses
Elliott A. Wilcox, Tampa
1:50 PM – 2:40 PM
Misdemeanor Matters on Appeal: Proper Issue Preservation When Moving Beyond County Court
Michael R. Ufferman, Tallahassee
2:40 PM – 2:55 PM
Break
2:55 PM – 4:05 PM
Yes, You Can Use Experts in County Court, Too: A Conversation About Computer, Audio/Video, and Cell Phone Forensics
Andrew Garrett, CEO, Garrett Discovery, Orlando: eDiscovery/Computer/Mobile/Video/Audio Expert
Brian Bowman, Midwest Lab Director, Garrett Discovery, Orlando: Forensic Expert
Anthony Nelson, Garrett Discovery, Orlando: Audio and Video Forensic Expert
4:05 PM – 5:00 PM
Best Practices to Negotiate Cases in County Court: A Discussion on When, Where, and How to Get Case Resolution Going
AnneMarie R. Rizzo, Sarasota