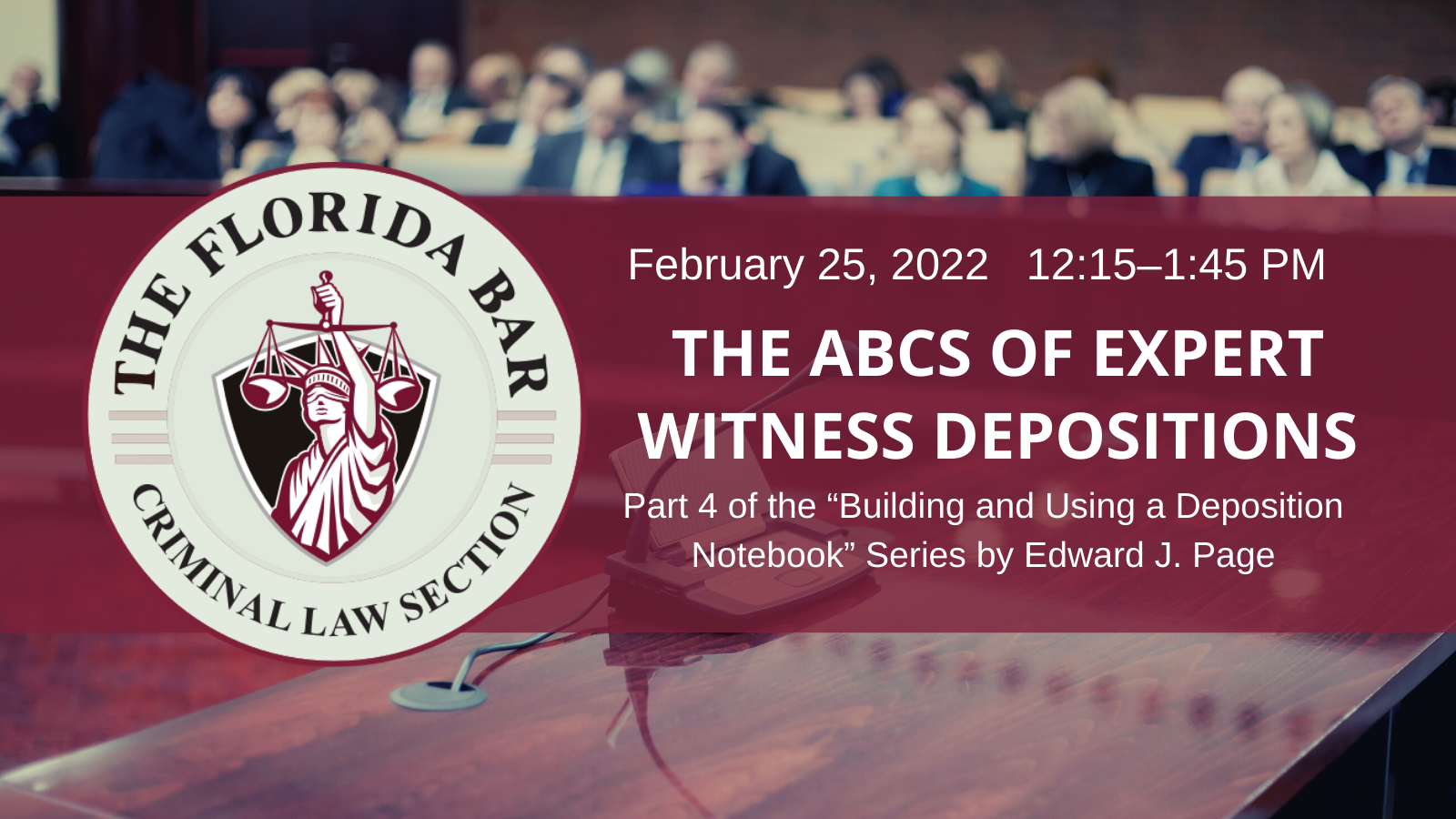 25 February, 2022 @ 12:15 pm

-

1:45 pm

|

$50
(5731) The ABCs of Expert Witness Depositions—Feb. 25, 2022, 12:15 PM – 1:45 PM, Live GoToWebinar. Part 4 of the Experts on Advocacy:  Building and Using a Deposition Notebook CLE Series.  Approved for 2 General CLE credits and 2 certification credits each in  Juvenile Law, Appellate Practice, Criminal Appellate and Criminal Trial. Criminal Law Section members register for only $50.
Experts on Advocacy is a CLE series presented by the Criminal Law Section bringing together today's best strategic thinkers and compelling courtroom advocates to offer you effective ideas and creative insights for improving litigation results at all stages of criminal court proceedings.
We are privileged to have veteran trial lawyer Ed Page return with this fourth installment of his Deposition Notebook series—the ABCs of expert witness depositions and how to take them to the next level. Once and for all, Ed will take the mystery out of this all-important part of the discovery process by employing his tried and true principles and techniques, including:
The T-Funnel approach to learn, confirm, tie down, and test facts and expert opinions
How to craft and manage your lists of bad case facts and good case facts
How to learn and apply the four levels of advocacy in criminal cases
How to build and use a deposition notebook
Participants in this program will receive the complete, 36-topic index from the Ed Page Deposition Notebook, including all the materials you will need to take your best expert witness depositions. REGISTER