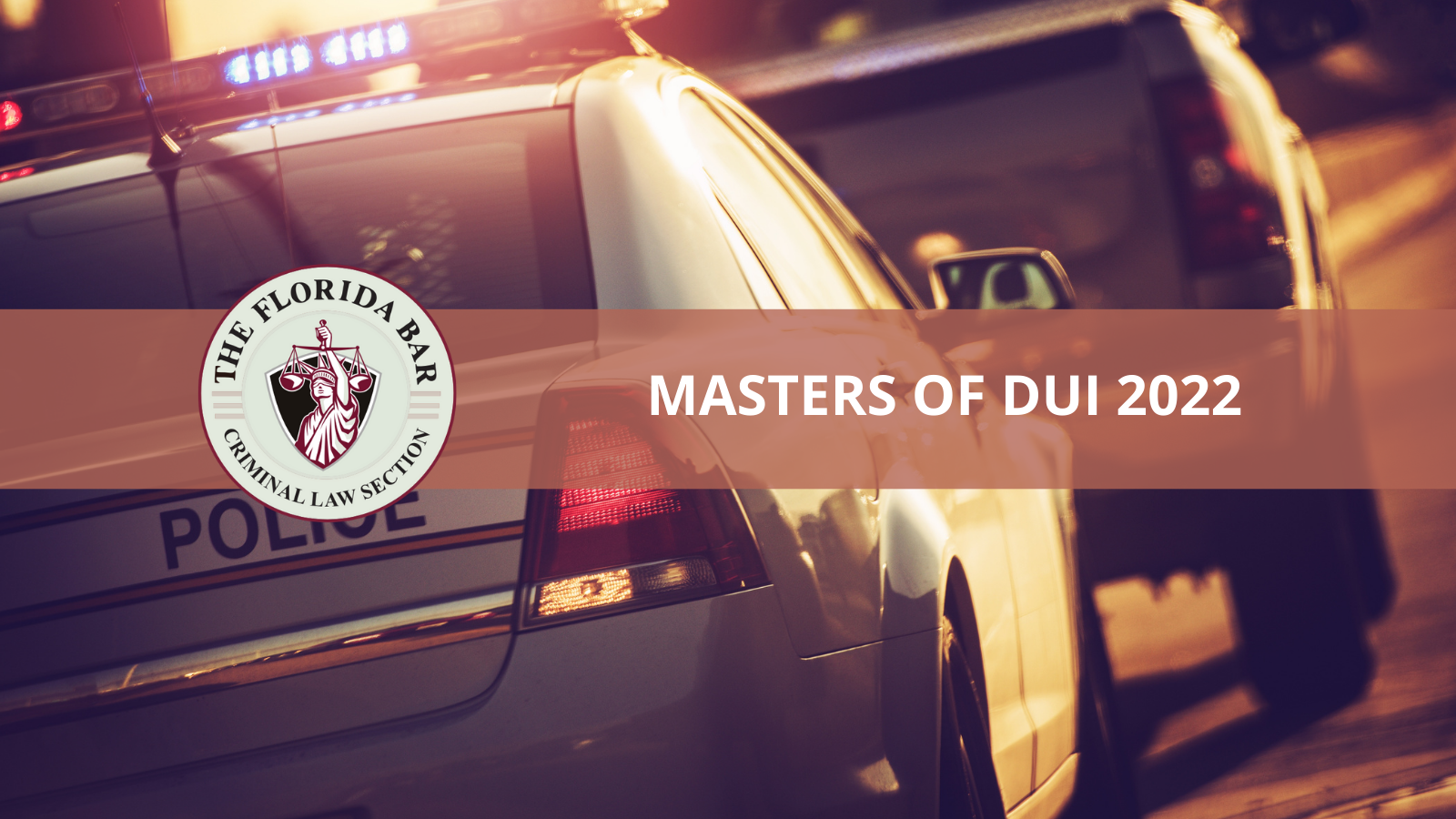 5 May, 2022 @ 9:00 am

-

6 May, 2022 @ 4:00 pm

|

$430 – $480
(5586) Masters of DUI 2022—May 5-6, 2022—Live (Tampa) and live webcast.
The 2022 edition of the Criminal Law Section's Masters of DUI CLE is back in-person—for two days at the lovely Floridan Palace Hotel in Tampa—and promises a comprehensive, cutting-edge look at the prosecution and defense of alcohol- and drug-related vehicular offenses.
Designed for basic, intermediate, and experienced practitioners alike, our Masters of DUI faculty of judges, lawyers, and industry experts are as knowledgeable as they are balanced, presenting you with what you need to know from the perspective of both state and defense. Topics to be addressed include breath and blood testing, pretrial motions, cross-examination, marijuana DUIs, and accident reconstruction. In addition, of particular interest are our presentations on the all-important client interview, the administrative hearing process, writs of certiorari, and how to navigate serious bodily injury and death cases. All of this, and our all-star ethics panel, make the 2022 Masters of DUI a CLE event you won't want to miss. Join us and register today!
REGISTER for course number 5586:
Course classification: Advanced
CLER Program (max credit: 15.0 hours)
General: 15.0 hours
Ethics: 1.0 hours
Certification Program (max credit: 9.0 hours)
Appellate Practice: 15.0 hours
Criminal Appellate: 15.0 hours
Criminal Trial Law: 15.0 hours
Juvenile Law: 15.0 hours
In-person live event:  Register here
Criminal Law section member – $430
Non-section member – $455
Full-time law college faculty/student – $273
Fee waiver – $90** (Requires discount code)
** Must meet qualifications. For more information, email accounting@floridabar.org.
Live Webcast:  Register here
Criminal Law section member – $480
Non-section member – $505
Other Formats

Day 1: May 5, 2022
9:00 am – 9:10 am
Welcome
Susan Z. Cohen, Program Co-Chair, Epstein & Robbins, Jacksonville
David M. Robbins, Program Co-Chair, Epstein & Robbins, Jacksonville
9:10 am – 10:00 am
Case Law Update
Tara A. Anderson, Assistant Public Defender, Supervisor of County Court, Sixth Judicial Circuit, Clearwater
10:00 am – 10:50 am
My Client Was in a Crash and Blew a .18.  Where Do I Begin?  The Client Interview
Susan Z. Cohen, Epstein & Robbins, Jacksonville
10:50 am – 11:05 am
Break
11:05 am – 11:55 am
Good Things Happen When You File Motions
E. Michael Isaak, Isaak Law, PLLC, Tampa
11:55 am – 12:25 pm
Lunch
12:25 pm – 1:15 pm
The Judicial Perspective
Hon. Deborah Carpenter-Toye, 17th Judicial Circuit County Court Judge, Fort Lauderdale
1:15 pm – 2:15 pm
Marijuana DUIs
Ronald L. Moore, Forensic Toxicologist, Impaired Driving Toxicology, Inc., Lake Forest, California
2:15 pm – 2:30 pm
Break
2:30 pm – 3:20 pm
Breath Testing Issues
Robert N. Harrison, Robert N. Harrison, P.A., Venice
3:20 pm – 4:10 pm
The Nitty-Gritty of Accident Reconstruction
Sarah-Anne Blades, Accident Investigator and Traffic Accident Reconstructionist, Owner, Blades Consulting Group, Miami
4:10 pm – 5:00 pm
Ethical Dilemmas in DUI Practice
Moderator: Brian L. Tannebaum, Tannebaum Law, Miami
Panelists:
Stephanie Pizarro, Deputy Chief, State Attorney's Office, 13th Judicial Circuit, Tampa
Hon. Samantha L. Ward, 13th Judicial Circuit Court Judge, Tampa

5:00 pm
Conclusion
Susan Z. Cohen, Program Co-Chair
David M. Robbins, Program Co-Chair
Day 2: May 6, 2022
9:00 am – 9:10 am
Welcome
Susan Z. Cohen, Program Co-Chair, Epstein & Robbins, Jacksonville
David M. Robbins, Program Co-Chair, Epstein & Robbins, Jacksonville
9:10 am – 10:00 am
Nuts and Bolts of the Administrative Suspension
Susan Z. Cohen, Epstein & Robbins, Jacksonville
David M. Robbins, Epstein & Robbins, Jacksonville
10:00 am – 10:50 am
When the Nuts and Bolts Don't Prevail: Petitions for Writ of Certiorari
Susan Z. Cohen, Epstein & Robbins, Jacksonville
10:50 am – 11:05 am
Break
11:05 am – 11:55 am
The Administrative Process — Tales From the Other Side
Tom Moffett, Chief Counsel, Florida Department of Highway Safety & Motor Vehicles, Tallahassee
11:55 am – 12:25 pm
Lunch
12:25 pm – 1:15 pm
Blood Testing: What Could Possibly Go Wrong?
Mark Thiessen, Board Certified in Criminal Trial (by the Texas Board of Legal Specialization), Thiessen Law Firm, Houston, Texas
1:15 pm – 2:05 pm
Taking Charge of the Witness During Cross Examination
Keeley Karatinos, Karatinos Law, PLLC, Dade City
2:05 pm – 2:20 pm
Break
2:20 pm – 3:10 pm
Case Evaluation in Serious Bodily Injury and Death Cases
Michael J. Kessler, Board Certified in Criminal Trial Law, Kessler Law Firm, Fort Pierce
3:10 pm – 4:00 pm
Trial Strategies in Serious Bodily Injury and Death Cases — From Both Sides
John G. Kalinowski, Assistant State Attorney, Director of County Court/Traffic Homicide, Fourth Judicial Circuit, Jacksonville
Aaron M. Wayt, Senior Trial Associate, Pumphrey Law, Tallahassee
4:00 pm
Conclusion
Susan Z. Cohen, Program Co-Chair
David M. Robbins, Program Co-Chair